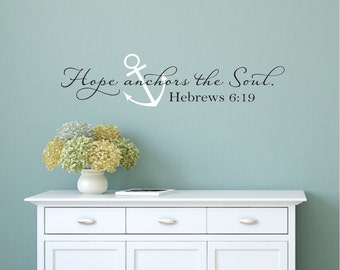 Hope has been my anchor almost all my adult life. I don't know what I could have done or be if it weren't for the hope God has graciously given me. I had and still have so many dreams I want to see become reality and so many prayers I want answered. I prayed for me to change, to become the wife, mother, employee and the daughter God wants me to be. I saw changes happen in my life over the passed years, slowly but surely. I look back and see from where I came from and where I am today. The battles I went through, humiliations I suffered, injustice and pain. But in all of the unfairness I see a fair and a just God who carried me through it all. He is faithful, and He is here. How painful life can be, the smile at the end is promised for me, and no matter how the devil wants to pull us down the Lord will work it out for our good. The challenge on my faith is an opportunity for me to grow my faith. If I or my loved one is sick it's an opportunity to practice my faith and see God as a healer, and to see the compassion and love He has for us. Job said in 19:25 "I know that my redeemer lives, and that in the end he will stand on the earth". Oh so much hope there is available for the soul that puts its trust in the Lord. Hope takes our focus off the suffering and points us to the Lord.
My poor child has been suffering from chronic coughs and this thing has been frustrating me more then I realized. The Lord showed me how unbelieving I have been and impatient I have been with my child. I asked that He forgive me and He placed this hope again in me, causing me to believe and to see His blessings in the mist of the suffering. How He has been busy to pour out His love and healing in my child's heart? My girl's soul was wounded from rejection and the Lord is using this sickness for her advantage. And I know that I know that at the end my child will not only be healed from the sickness, but her wounded soul will be healed and her faith will be made stronger along with ours.
"And hope does not disappoint us, because God has poured out his love into our hearts by the Holy Spirit, whom He has given us" Romans 5:5.